CARPATCLIM - Climate of the Carpathian Region
The Carpathian Mountains define the climate of the Carpathian basin, and also the region surrounding it. The mountains and the neighbouring basins are a geographic connection between the Northern and Southern European ecosystems, they grant habitat to numerous species of plants and animals. The climate is formed by oceanic, continental and mediterranean effects, as well as altitude factors. More than 20 million are living in the region that includes parts of Austria, the Czech Republic, Slovakia, Ukraine, Poland, Hungary, Romania, Croatia and Serbia. The climate change is expected to cause remarkable consequences to both the natural ecosystems and human activity. Therefore the unified description of this region that has various characteristics of terrain, natural conditions, cultural features and political borders is particularly actual.
The aim of this tender is the spatial and temporal examination the climate of the Carpathian Region (Fig. 1) using harmonized data and standard methodology. The leader of the winning consortium is the Hungarian Meteorological Service. Carrying out the project is based on the data homogenization method MASH (Multiple Analysis of Series for Homogenization, Szentimrey) and the interpolating method MISH (Meteorological Interpolation based on Surface Homogenized Data Basis, Szentimrey, Bihari) that were developed at the Climate Department of the HMS. The mathematical processes of these internationally acclaimed automatic data processing methods play a key role in the implementation. At the end of the project the digital climate atlas of the region will be produced, that can be the basis of regional climate change studies and other climatological research. Results will be used by the JRC (Joint Research Center Institute for Environment and Sustainability) primarily for drought assessment in the frame of the EDO (European Drought Observatory).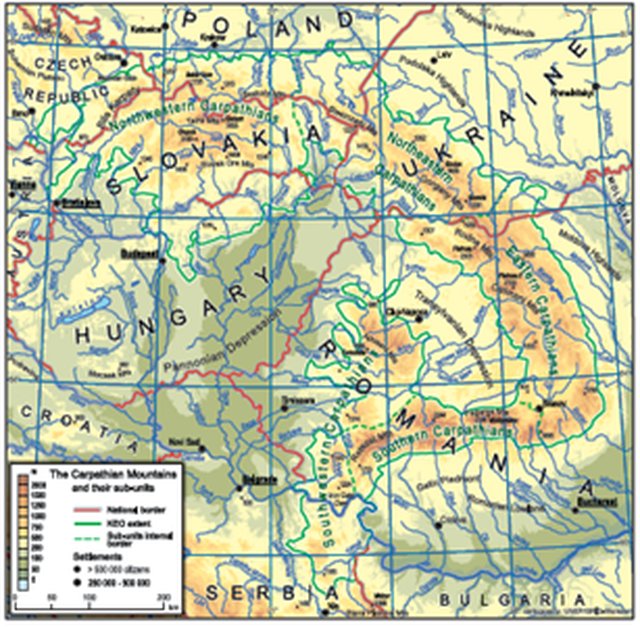 Figure 1: Carpathian Region (between 44° and 50° N and 17° and 27° E)

The aim of the tender:
Producing the digital climate atlas of the Carpathian region
Daily meteorological data in 0.1° resolution from 1961 to 2010

Participants
Hungarian Meteorological Service, OMSZ, Hungary, consortium leader
Slovak Hydrometeorological Service, SHMU, Slovakia
Republic Hydrometeorological Service of Serbia, RHMSS, Serbia
Czech Hydrometeorological Institute, CHMI, Czech Republic
Institute of Meteorology and Water Management, IMGW, Poland
Ukrainian Hydrometeorological Institute, UHMI, Ukraine
Ministry of Environment National Research and Development Institute for Environmental Protection, DDNIRD, Romania
Central Institute for Meteorology and Geodinamics, ZAMG, Austria
Szent Istvan University, SZIE, Hungary
Subcontractor: Meteorological and Hydrological Service, DHMZ, Croatia

Tender specifications:
European Commission Joint Research Centre, Institute for Environment and Sustainability
Contract Notice OJEU 2010/S 110-166082 dated 9 June 2010; download [pdf 503 KB]

The contract signed: 20 December 2010

Total budget: 1 495 000 EUR

Duration: 24 months for preparing + 12 months to host the website

Modules:
Module 1
Data rescue, quality control, and data homogenization
leader: Slovak Hydrometeorological Service
1.1 Metadata and data rescue
leader: Slovak Hydrometeorological Service
1.2 Bilateral data exchange
leader: Szent István University
1.3 Quality control and data homogenization
leader: Hungarian Meteorological Service
Module 2
Climate data harmonization and production of gridded climatologies per country
leader: Hungarian Meteorological Service
Module 3
Digital climate atlas of the carpathian region
leader: Republic Hydrometeorological Service of Serbia

Climatic parameters to create: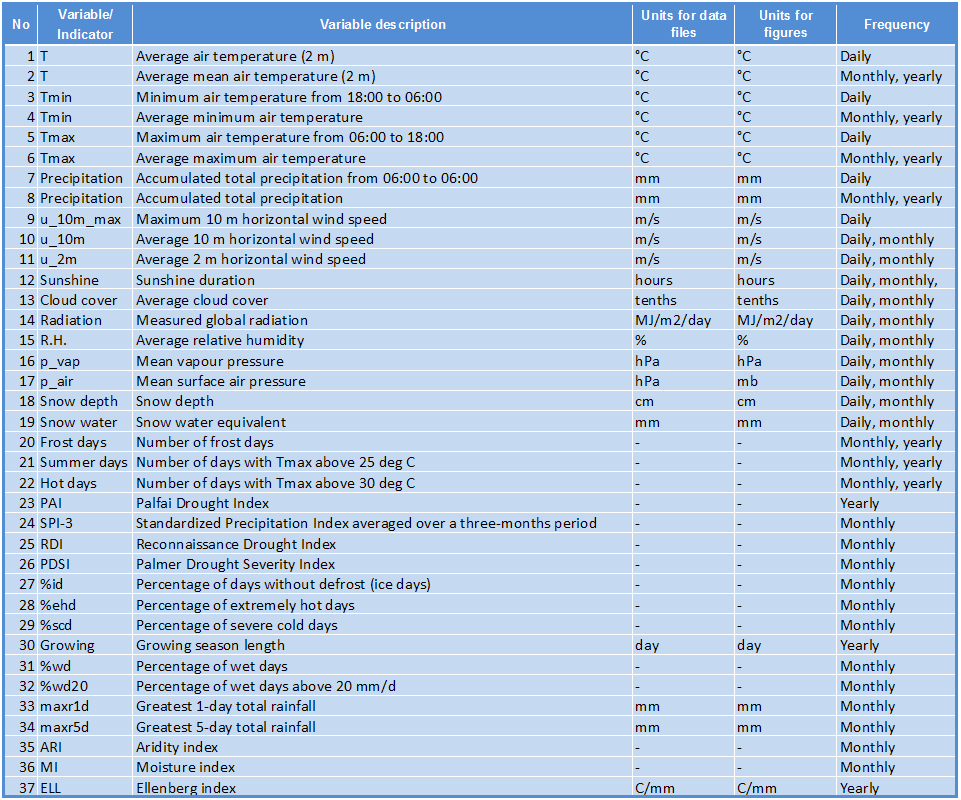 Deadlines:


Events:
Consortium meetings
18-18 April 2011 Budapest
18-19 July 2011, Bratislava
28 October 2011, Budapest
31 January – 1 February 2012, Kraków
2-3 April 2012, Gödöllő
4-5 July 2012, Mahmudia
Homogenization training
6-7 December 2011 Budapest, OMSZ

Completed reports:
D1.06
Report of data inventory of meteorological stations per month to be considered for the service , including the specification of existing data gaps and proposed methodologies to fill them, and of existing analogue datasets to be digitized
D1.07
Proposal for quality control tests to be performed for all observational timeseries
D1.08
Proposal for homogenization methods to be applied to all observational timeseries
D1.09
Report on preliminary results of the data rescue and digitization exercise, per country
D1.10
Final report on the documentation of the data rescue and digitization exercise, per country
D1.11
Report on preliminary results of the quality control and data homogenization measures applied per country, including QC protocols and measures to determine the achieved increase in data quality
D1.13
Final report on quality control and data homogenization measures applied per country, including QC protocols and measures to determine the achieved increase in data quality
D1.14
Implemented draft version of metadata per country of meteorological stations selected for this project, including the length of record and observed parameters per station
D1.15
Final version of all metadata per country of selected meteorological stations with full functionality, including the length of record and observed parameters per station
D2.04
Report with preliminary results of the data harmonization procedures applied, including all protocols, per country
D3.10
Outline of the structure of the web site of the Carpathian Atlas, foreseeing all requested functionality

Tender specifications:
European Commission, Joint Research Centre, Institute for Environment and Sustainability
Contract Notice OJEU 2010/S 110-166082 dated 9 June 2010;
download [pdf 503 KB]

Softwares:
MASH (Multiple Analysis of Series for Homogenization, Szentimrey)
MISH (Meteorological Interpolation based on Surface Homogenized Data Basis, Szentimrey, Bihari)

Contacts: bihari.z@met.hu, szentimrey.t@met.hu, lakatos.m@met.hu
---